Advanced Lock & Safe is YOUR Bullhead City Locksmith
Our Services
(non-emergency, lock & safe work only. For alarms click here
)
(928) 768-5397
(928) 234-3801
Bullhead City Locksmith / Fort Mohave Lockmith
We will come to your home or place of business anywhere in our service area, day or night, and unlock it for you if you are locked out. If you lose your keys, or an unauthorized person has your keys, we can make you a new key from scratch or rekey your locks so that the old keys will no longer work. Included in the cost of rekeying any lock is inspection, cleaning, lubrication and minor repair or adjustment to the lock cylinders, latches and strikes. Broken or worn out components, like pins, springs, clips and latches can often be replaced, which can save you the cost of a new lock.
We stock parts for popular brands of residential door knobs and deadbolts used in our area such as Kwikset and Schlage, and if the lock is not worth attempting repair, we will replace it for you for the price of the new lock.
We also carry lock cylinders, latches and other parts for the most common commercial locking systems currently in use in our service area including Interchangeable Core, high security/restricted locks and key systems such as ASSA, BEST, Schlage Everest, etc.
Our minimum Service Call (Trip charge) is $50.00, plus...
Rekey standard cylinders (not high security, restricted, IC Core, etc) - $10.00 per cylinder IF YOU HAVE A KEY.
Rekey standard cyl. with NO KEY AVAILABLE is only $12.50 per cylinder. (Except Schlage)
Rekey Restricted, High Security, Rim devices, IC Core, Schlage, etc - $20.00 to $35.00 per cylinder.
Masterkey systems - $15.00 to $35.00 per cylinder depending on system-type and keyway.
Home/Business and Car opening charges - $15.00 to $30.00 per lock or vehicle depending location/make/model, etc.
*Some locks, like Schlage, Best, etc. and even the newer Kwikset SmartKey system require a key to remove the cylinder or to rekey the lock. These locks can be impossible to pick in a reasonable amount of time and therefore may have to be drilled and replaced if the keys are lost and there is no other way in.
Safe & Vault Services
We sell, install, service, open, repair and change combinations and electronic codes on almost any safe or vault made. That includes Wall, Floor, Fire, Pistol/Rifle and Burglary rated containers. If you forget your safe combination, often times we can obtain the factory combination or override code and save you the cost of an expensive opening procedure. We no longer move safes but we do recommend Blue Water Moving Co. of Bullhead City. They can be reached at (928) 514-3614
Safe & Vault opening charges (lost combo, etc. DO NOT include service call or repairs)
Combination changes are generally $80 - $100 depending on location of safe.
Safe openings are anywhere from $100 to $1000 depending on the safe or vault. The more information you have, the faster and more accurate we can quote a price for opening it and schedule the service call. The make (manufacturer, i.e. Liberty, Cannon, Stack-On, Sentry, AMSEC, etc) the Model number and serial number can tell us a lot, please have this information available when you call.
Safe repairs cost anywhere from $350.00 to $2500.00 or more depending on the type of safe and lock, repairs, parts used or required. Please call us for a quote on safe and vault openings and/or repairs at (928) 768-5397 or (928) 234-3801.
Alarm Systems
We are an affiliate and installation sub-contractor for GreenLine Home Solutions with home automation/remote access provided by Alarm.com. We install 2GIG Technologies wireless security systems, which won the prestigious "Security Product of the Year" award given out by the Consumer Electronics Association (CEA) several times since 2011.
This state-of-the-art burglar and fire alarm system features "smash & grab" protection, compact battery-powered encrypted wireless transmitters for doors, windows, motion and smoke/heat detectors; with the battery backup and cell phone communicator built right into the touchscreen alarm panel. The cellular radio connection to the 24 hour monitoring station guarantees that even if you're power and outside phone lines were to be cut, your home or business would still be secure. We offer dual-path capability (using your home/business internet connection) for free so your system has a backup to the cellular module making these systems even more secure and reliable! The current Edge Panel is a 7" touchscreen with facial recognition and two-way voice, up to four service "zones" so you can arm/disarm a seperatre garage or other building within range.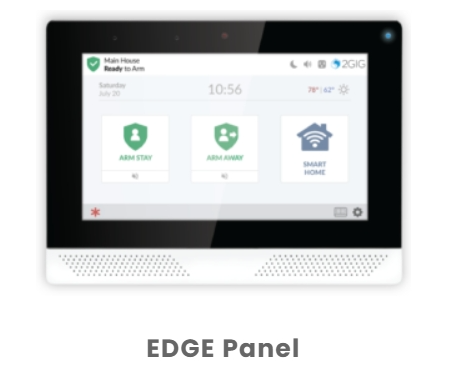 | | |
| --- | --- |
| | |
Some of the options and features that are available cannot be found anywhere else, this includes Keyfob remotes, two-way voice communication with the central station, remote access via internet and FREE smartphone app (Alarm.com) for control of the complete system and appliances like air conditioning and heating, lights, cameras and locks using Z-Wave technology. All packages include weather forecasts and severe weather alerts at the alarm panel too. Call us anytime at (928) 768-5397 or (928) 234-3801 to schedule a free on-site security inspection and receive a personalized estimate.
---
Automobile, Motorcycle, Boat and RV Services
We open cars and RV's if you lock your keys inside, but we no longer generate keys for cars or RV's. If you need car or RV ignition keys made we recommend Mike at Ace Lock & Key in Bullhead City, AZ; he specializes in auto-locksmithing. Please call (928) 219-5940 for Chip keys lock service for all makes and models of cars and RV's.
We can generate keys for most motorcylces, boats and RV exterior locks. Call (928) 768-5397 or (928) 234-3801 for an estimate.
---
Padlocks
Here at Advanced Lock & Safe we also make keys for padlocks, rekey them if they are rekeyable; and we sell a wide variety of padlocks, hasps and chains including Master, American, Almont, Abus, Medeco and others. Some of these locks can be fitted to your home or office keys with the use of special interchangeable cylinders. We can provide you with restricted and high security locks and cylinders for these locks as well if your situation warrants it.